Since 1992, Trust Network has successfully brought manufacturers and brand owners in the musical instrument and professional audio industry together with great distributors.
Using our in-depth knowledge of the ever-changing international network of decision makers we establish your brand with trusted distributors and re-sellers well suited to your product.

We work with all sizes of companies, from small and medium enterprises to some of the most established names
in the industry.

- Learn more about us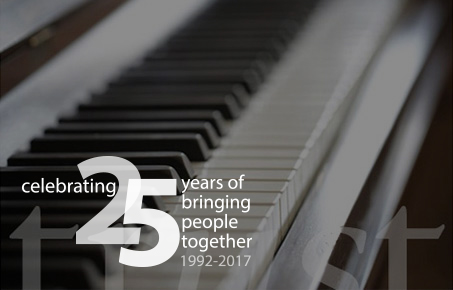 Our Approach
A genuine passion for the music and sound industry plus in-depth knowledge of its international sales networks make Trust Network a precision tool for getting your brand to market. Our approach combines professional research and top-flight sales presentation to identify and enthuse suitable distributors and resellers for your product. Our business analyses form the basis of mutual agreements between you and them to bring your brand to market with the commitments necessary for it to gain traction in export territories.
Subscribe to our Newsletter
News
09.03.17

At this year's NAMM Show Ivan Music of China won the Distributor Of The Year Award 2016 from Levy's Leathers of Canada. Ivan Music's appointment as Levy's Chinese distributor was achieved by the Trust Network when engaged by Levy's to review and resolve their distribution in China.

- Read more...

15.01.17

NAMM recognises The Trust Network's exemplary business practices that have stood the test of time. At the 2017 NAMM Show The Trust Network Ltd will be honoured with the National Association of Music Merchants (NAMM) Milestone Award for 25 years of service in the music products industry, presented by NAMM President and CEO Joe Lamond.

- Read more...
- More News
---
Harvey Levy - Vice President, Levy's Leathers Limited, Canada.
"The first thing that impressed me was the level of professionalism Trust Network brought to the task. Their language skills and diplomatic style made me very comfortable in allowing them to conduct a search on my behalf. Trust Network would burn no bridges. Their insistence that the search take place in an atmosphere of openness fit well with how I thought the search should be done. The search was conducted over a period of three months and I was amazed at the firm's ability to maintain an objective attitude throughout the process. Candidates got an equal opportunity to present their qualifications and in the end I had the information I needed to make an intelligent choice. In the end I knew more about the specific market place in which the search was conducted, the potential for growth and the number of potential distributors than I could have discovered on my own."
www.levysleathers.com