Mono bags arriving in the UK
Andy Barrett from MI Pro, Aug 14 2008 - Read Original Article
The Trust Network establishes a second 'multi' distribution deal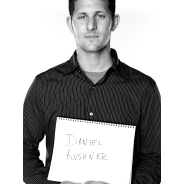 A new line of gigbags and straps for guitarists, bassists and drummers, Mono, is soon to be launched in the UK through two separate suppliers, the Music shipping Company (handling the cymbal and stick bags) and Madison & Fifth – a new guitar accessories distributor in the UK.
Mono is the brainchild of Daniel Kushner (pictured), a California based designer with something of an esoteric background, having qualifications in industrial design engineering, environmental sustainability, and cultural anthropology.
Kushner's bag designs feature an ultra light, laminated foam shell with strategically placed ABS panels, providing, he affirms, "an unmatched level of protection for your most prized investments". His thinking behind the products is similar to that taken by several other accessory manufacturers, in that an expensive instrument deserves (and requires from the owners) suitably matched quality for its accessories.
Following on from the success of finding three specialist distributors for the Schertler range of acoustic instrument pickups, Brendan Murray's The Trust Network sourced two distributors to handle Mono's lines in the UK.
"We're very excited to be working with both Madison & Fifth and The Music Shipping Company to serve our players in the UK," Kushner told MI Pro. "With such focused expertise in their respective markets, fuelled by a personal enthusiasm for our product lines, we have the elements in place for a highly successful collaboration.
More importantly, with this specialized distribution model we will offer a valuable new addition to our dealers' stores by attracting the many under-served musicians we design for".
Peter Miller Smith of Madison & Fifth said: "We are delighted to have been appointed as the UK distributor for Mono's guitar range. The intelligent design, strong aspirational branding and sheer practicality of these unique cases and straps fits perfectly with our existing lines. The Mono product set will offer the retailer a real differentiator compared to the many 'me too' products on the market."
"With two such specialist companies in the UK percussion and guitar markets, recognising the area of business that is there to be catered for by Mono cases, the UK's dealers can be sure of the backup and marketing being done necessary to buy the brand with confidence," commented Murray. "Mono is already proving in recession-hit USA that there is an entire section of musicians who, when presented with an aesthetic in case design that exudes taste, displays top-flight industrial design engineering to deliver tremendous protection combined with less weight than anything comparable on the market and a truly innovative feature set, they are happy to pay for it. And the value is real. Normally the UK retail in pounds is around 80 per cent of the US dollar retail. At around $189 versus around £99, Mono's UK retail will be more like 50% off US retail."