Trust Network distributor takes Levy's top award
14.01.11
Pictured being presented with the award by Mr Harvey Levy (right), Vice President of Levy's Leathers of Canada, during the NAMM Show at Levy's Distributor Appreciation Cocktail Reception, is Mr Carlo Bonomi, CEO of Mogar Music of Italy - part of the Monzino Group.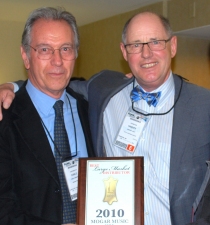 "We're absolutely delighted for Levy's that one of the distributors Trust Network put in place for them has performed so well that they've taken top honours", said Brendan Murray of Trust Network. "Every time I've met Carlo since we brought Mogar and Levy's together he reminds me how he had said "No" several times before finally agreeing that the match made good commercial sense. Because of the great sales they've enjoyed with Levy's thereafter he always thanks us profusely for persuading them to begin with the brand. It's this kind of international overview where we can spot potential partnerships that would make for great mutual business that is one of the main benefits Trust Network brings to our clients."
Levy's Leathers also engaged Trust Network to review their distribution in Germany, Japan, China and (their biggest export market by far) the USA. These have also proved to be very successful partnerships. For example, Levy's invited the Chinese distributor that Trust Network put in place for them to address a GAMMA meeting (Guitar and Accessories Marketing Association - see www.discoverguitar.com). They explained how they succeeded with Levy's and other high quality guitar-related products in what is still an emerging and difficult market for such merchandise.
Manufacturers and brand owners wishing to establish or review distribution for their products in export markets can contact Trust Network at info@thetrustnetwork.com, tel: + 44 1633 441361. www.thetrustnetwork.com