Trust Network helps Dream Cymbals reposition their brand and establish quality European distribution
15.01.17
Our work for Dream Cymbals on Distribution:
Through the efforts of Trust Network, Dream cymbals now have highly suitable, full supply, service and marketing distribution throughout The Netherlands, Belgium, Luxembourg and Switzerland.
In Benelux this is provided by percussion-specialist, Dick Visser Music Sales.
In Switzerland, Trust Network brought Dream together with one of that country's longest-established MI distributors - Marcandella AG.
In Germany, Dream is now being retailed through one of Germany's mega Top-5 music dealers – Session – with major branch outlets in Frankfurt and Walldorf.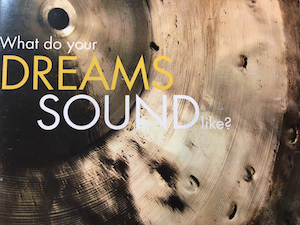 Our work for Dream Cymbals on Brand Re-positioning:
The combination of the skills and age-old processes of the Wuhan cymbal smiths, the Dream specifications of using only B20 alloys, producing only hand-hammered cast cymbals, and the tuning expertise of Dream's cymbal designers – all of whom are active professional players with some of the world's top artists and orchestras – made the brand's entry-level positioning erroneous.
Trust Network helped the Dream brand be recognised for what it truly is, given all these qualities that the products have.
Their new distributors and retailers launched Dream with it re-positioned above entry-level but still well below the leading brands. Thus Dream offers a tremendous value proposition by establishing a new price area for professional cymbals where the quality of sound and performance achieved by the market's top brands is available from Dream at a much more affordable level.
Our work for Dream Cymbals on pan-European and Global pricing:
With Dream already selling strongly in the US, Canada, the UK, Australia and other developed markets, European pricing became another important matter which Trust Network addressed for the brand. All the new European resellers were able to join Dream's international network in a level playing field that caters equally well for the distributors in Benelux and Switzerland and the retailers in Germany.